Join the High-Demand, Recession-Resistant Senior Care Industry
Medical Experience is not Required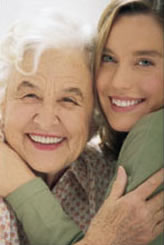 One of the most remarkable trends in the US market over the last 20 years is that older Americans are choosing to live out their lives in their homes—and choosing not to go to a "senior living" facility. This has created an enormous business opportunity, and Assisting Hands Home Care is the path for you to take part.
Assisting Hands® is a leading in-home care franchise that offers personalized assistance and care to seniors. Longer life spans and an aging baby boomer population fuel the demand for our services. There is also a growing demand for in-home services to younger adults as well. Our franchisees can also choose to provide skilled nursing services as well as non-medical services such as bathing and homemaking. As we continue to expand we're looking for select individuals to join us. As an Assisting Hands® franchisee, you will find true meaning in your work, providing an essential service in a high-growth field that is recession resistant. You'll also enjoy the following advantages:
An affordable business system - Low cost of entry, setup, and location.
Growth opportunities through multi-unit ownership - Our multi-unit ownership program allows you to purchase additional location or locations and reduces the franchise fee for each additional location.
A protected territory - Once you choose an available area, your exclusive territory will be determined based upon demographics such as population, as well as distance from other franchisees.
No experience is necessary - to own your own business in the in-demand, in-home care industry, as we provide you with a proven business system and extensive training and support. Most of our franchisees come from non-health related fields including Finance, Law, Sales, Real Estate, and more. Everything you've learned in your previous career can contribute to your success with Assisting Hands.
Benefit from Repeat Business and a Vast, Growing Customer Base
Seniors represent one of the largest and fastest-growing segments of the U.S. population. The need for in-home senior care is significant and is only expected to grow as the Baby Boom generation reaches their senior years. Consider this:
With many families spread out geographically - more people are relying on the in-home care services that companies like Assisting Hands® provide.
In 2014, there were a staggering 46 million people over the age of 65 - in the United States.
By age 85, nearly 50% of these people will need some support - with their everyday activities.
As an Assisting Hands® franchisee you'll be well-positioned to provide this growing audience of seniors, and other individuals with the care and services they require.
Leverage Our Proven Business System and Industry Expertise
As an Assisting Hands® franchisee you will receive:
Comprehensive training - You'll participate in one week of intensive training, including both classroom and onsite instruction. The training program covers all aspects of running the Assisting Hands® franchise business including caregiver training, recruitment and hiring, billing, scheduling and customer service, cash management, marketing and advertising.
Ongoing support - Numerous support tools and resources are provided throughout the life of your business, including (but not limited to):
Franchise Intranet/Extranet.
Support from industry experts - with experience in both home care and franchise support and development.
Regional marketing, public relations and development support.
Proprietary business systems - created solely for the use of Assisting Hands® franchisees.
Technology that streamlines your operations - Automated technologies for invoicing and payroll are available. And Assisting Hands® provides billing and scheduling software with 24/7 customer support.
Our Industry Experts Provide You with an Edge in the Marketplace
Assisting Hands'® founder and senior vice president of training and support, Dr. Gail Silverstein, has more than 25 years of experience in the healthcare industry, including leadership roles in private and public health care organizations.