The Human Bean strives to capitalize on the growing premium beverage market.
Join us in providing consistent & delicious products with exceptional customer service.
What Makes Us Better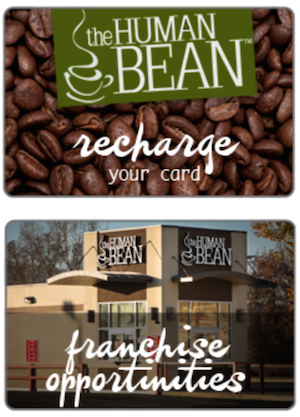 Unlike nearly all other franchises, we do not charge percentage-of-sales royalty or marketing fees. We earn revenues from bulk sales of coffee and other supplies ordered from our franchised locations.
At The Human Bean, we work as a team with our franchisees; our franchisees don't work for us by paying high royalties and marketing fees that take away from their bottom line.
Our goal is for Human Bean franchisees to enjoy the returns from their investment while receiving the benefits of being part of The Human Bean franchise.
Our building designs aren't limited to double-sided drive-thrus. We offer a single-sided design with a menu board and order station that maintains the speed of our double-sided locations. In fact, our newest corporate store uses this design and we have found that it increases accuracy. This innovative single-sided design paired with the order station increases flexibility when choosing site locations.
Having successfully managed 14 corporate locations ourselves, The Human Bean franchise team delivers the experience and expertise to assist you from start to finish in opening your own The Human Bean Espresso Drive-Thru business.
Why Our Customers Love Us
We are committed to being responsible global citizens. Our Farm Friendly Direct programs allow us to acquire exceptional Arabica coffees while simultaneously recognizing that the farmers' quality of life is vital to mantaining sustainable growing and harvesting practices. We realize that together we can both promote ethical farming practices and protect the environment.
Succeed With Us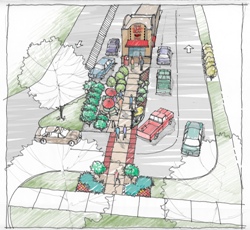 There are many key components to a successful espresso drive-thru:
Site selection

Ease of entry and exit
High traffic volumes (at least 15,000 cars per day)
Located on main morning drive with great visibility from street
Superior and consistent product
Friendly and efficient staff

Specialized barista hiring & training
Building design

Equipment layout
And much, much more
With minimal overhead costs, successful espresso drive-thrus have the potential to earn high profit margins.
Through successfully operating our 13 high volume corporate espresso drive-thrus, The Human Bean franchise system is highly refined in drink preparation, specialty training and overall drive-thru operations.
What We Offer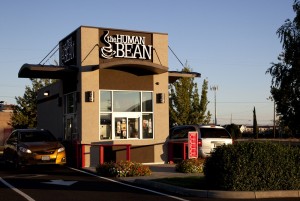 From finding the perfect site to specialty training, our corporate team is ready to help:
Site selection assistance
Preliminary site plan design

Architectural drawings of building choices
Full equipment schedules for high volume drink production
Complete Operations Manual

Full branding with Trademarked name and logo

Branded signage, graphics & marketing tools
Branded Arabica coffee blends from our farm friendly programs
Branded cups and other merchandise

Specialized training prior to and during opening