Brand Recognition & Industry Leadership with Large Market Potential
The need for businesses to get noticed through brand recognition and advertising is more important than ever before. As a result, this need to get noticed has propelled the embroidery and promotional industry to a $50 billion market. Fully Promoted's proven system has made an imprint in the industry as the premier 'Promotional Marketing Partner' for businesses and consumers around the world.
In January 2017, we announced the next evolution of our brand, which included a name evolution from EmbroidMe to Fully Promoted. Over the years, customers have asked our stores to provide more products and services to help their businesses grow and to gain more customers—from custom apparel and promotional products to printing services and digital marketing.
Why Fully Promoted?
Fully Promoted has been at the forefront of this growth as one of the world's first embroidery and promotional products franchises, successfully franchising the full-service garment printing concept for over 10 years. Entrepreneur magazine has named the Fully Promoted Franchise as the leading franchise provider of embroidery, promotional products, printed apparel and personalized gifts services and we have helped hundreds of people just like you find success doing what they love.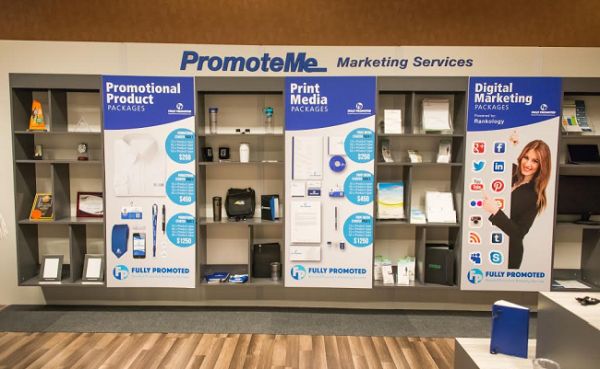 Locally Owned
Yet even as the world's largest promotional products franchise, one of the benefits of a Fully Promoted franchise is the local connection. Each of our locations are individually owned and operated, so our franchisees have a firsthand understanding of the needs of their community. Our proven business model, developed by the franchising experts of United Franchise Group (UFG), quickly helped us grow to become the world's largest embroidery franchise and businesses' promotional marketing partner for all their branding needs. As part of the UFG family, you receive unparalleled support and services. We are committed to providing you with the training, consulting, equipment, and resources you need to make your Fully Promoted store successful.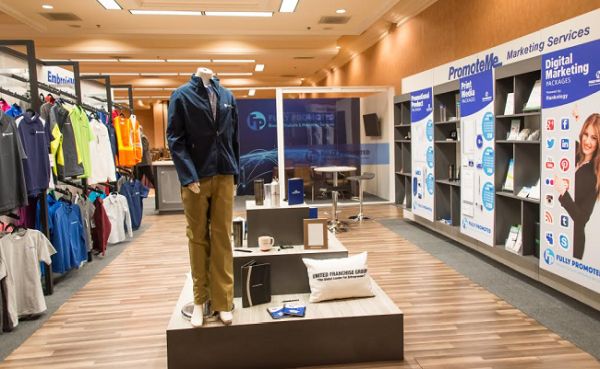 Franchising Makes Sense
When you become a Fully Promoted franchisee you enjoy the support provided by a global company combined with the independence of owning you own business. In addition, every Fully Promoted franchisee enjoys the benefits of being part of a large network with perks such as:
• High Volume Buying Power: With over 300 stores worldwide, Fully Promoted has an economy of scale that enables us to negotiate exceptional prices with vendors; thus, giving you a chance for huge savings on all your supplies.
• Internet Advertising Programs: Fully Promoted participates in an aggressive pay-per-click program that not only keeps us on top of our competitors, but also is strategically designed to drive traffic to your store.
• Free Marketing Materials: As part of a Fully Promoted franchise you receive marketing support in the form of professionally designed marketing and direct-mail materials.
• Professional Store Design: Every Fully Promoted franchisee has the advantage of a retail design expert who will help make the most of a store's layout.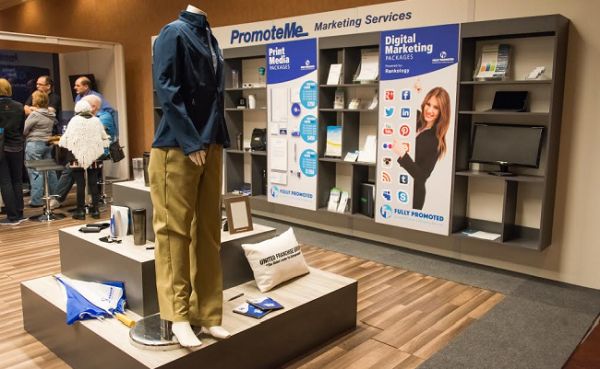 Training and Support - No prior experience necessary
As a result of one of the most extensive training programs in the franchising industry, Fully Promoted franchisees are trained experts in custom apparel and promotional products to printing services and digital marketing.
Our comprehensive 5-week program includes various phases of training:
• A two-week introductory training program (including travel and lodging expenses) at Fully Promoted University located at our corporate headquarters in West Palm Beach, Florida where you will learn all aspects of the business such as production, marketing, advertising, scheduling and bookkeeping.
• Three weeks of training at your store with one of our experienced operations and marketing advisers who will assist in your store's setup as well as the implementation of our proven marketing program.
We support you every step of the way
We don't leave you high and dry when you open the doors of your store. As a Fully Promoted franchisee, you will have access to the ongoing support from a team of trained individuals to assist you in all areas including training, consulting, marketing, equipment, research, and technical support. Join our family and experience the satisfaction of owning your own business while enjoying the benefits that come from being part of a global brand people know and trust.
Master License Opportunities Globally
We are awarding unique Master License opportunities for targeted countries/regions to qualified individuals and companies. A Master License includes the exclusive rights to a country or region. To learn more about this special opportunity or to learn about becoming our next Fully Promoted Master License partner, please contact us today.