Have you noticed as you read through all the franchise listings there is a lot of hype about their successes, their awards, and their achievements and that their common message is inferring their success will be your success?
Their success does not guaranty your success!
Instead, our focus is on your success!
Granicrete's approach focuses on your success through our Wholesale Distributor Business Opportunity.
1. You get our double turnkey success system! Not only do we have the turnkey approach for your success, we also have a turnkey approach for the success of your customers. The success of your customers accelerates yours.
2. We are not a franchise! We are a proven wholesale distribution model where we help you grow your own exclusive market.
3. You keep all your profits! We charge no royalties from your sales or obligate you to financial deficits for not meeting annual contract minimums.
4. We equip you for success! We are an old-fashioned wholesale model that also equips you with multiple revenue streams of profitability.
Do you want the following?
1. Two-Year Return on Investment (ROI) of 67% based solely on your Owner Discretionary Income after expenses.
2. Three-Year ROI of 114% after expenses.
3. Breakeven Point of 14-16 months.
4. Inventory turns monthly within a year.
5. Owner Discretionary Income growing to more than $165,000+ during year three with ongoing growth.
6. No additional capital required for continued growth.
7. Build your business quickly and profitably.
8. Offering 3rd Party Financing for any or all your start-up needs.
We will show you how to easily achieve these.
Your Return on Investment is also supported by these absolute necessities for any excellent business:
1. NOT A FAD! The decorative coatings industry is stable and more than 30 years old.
2. INDUSTRY IS NOT READILY KNOWN! Much opportunity for growth is ahead because it has not been heavily marketed.
3. EASY WHOLESALE BUSINESS MODEL!

• No retail hours, little overhead or employees required.
• Wear only a couple hats to achieve your success.
• Our comprehensive training and support is for you and for your customers
• You do not need any prior experience in the coatings industry!

4. EASY TO USE PRODUCTS! That can be used for nearly every square foot in residential, commercial, and municipality markets.
5. STRONG WHOLESALE MARGINS! These margins are calculated after your inbound freight costs.
6. LOW COST - LOW RISK FOR YOUR CUSTOMERS TO START!

• Granicrete products are applied using just a few hand tools and optional small equipment.
• Granicrete products are sought out by many parallel trade contractors and service providers.

7. STRONG REPEAT CUSTOMERS! Installing our products yields huge profits for your customers and we have a turnkey sales and marketing system to support them too!
8. BROAD AND DIVERSE CUSTOMER BASE! For more than a decade Granicrete products have been attracting coatings pros, contractors of parallel trades, and new entrepreneurs … and their clients.
In your due diligence on Granicrete:
• We will show you your revenue streams.
• We will show you your margins.
• We will show you the enormous margins for your customers.
• You will understand how to grow simply and profitably.
• You will have all your questions answered.
• You will know with certainty if Granicrete is a great fit for you!
Exceptional products for broad applications: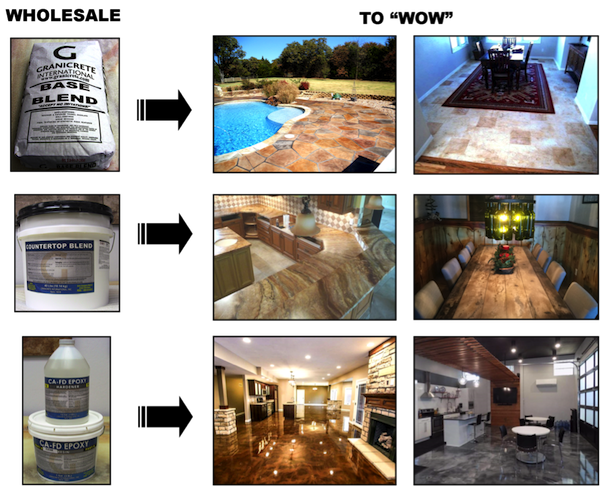 Our products are stronger than concrete and several times stronger than stone. They have excellent adhesion to so many surfaces and achieve jaw-dropping finishes.
All Granicrete's systems have been created to be simply applied with a few basic hand tools like a trowel and a brush.
Granicrete's engineered colorants are applied using spray bottles followed by our nano-technology sealers using a roller brush.
Such broad applications increase your opportunities for growing your business to a broad range of customers serving the residential, commercial, and government markets.
Granicrete is the recognized leader…
We launched the entire countertop surfacing industry in 2006 and received the Most Innovative Product Award at the industry's World of Concrete show in 2007.
Granicrete meets USDS compliance requirements and we are the only coating system to achieve the internationally recognized National Sanitation Foundation Certification for residential and restaurant use.

Granicrete has had many television appearances. Granicrete looks great on HD and 1080p big screens (and is even better in person)! All these shows are initiated by independent businesses using Granicrete products and have benefited from Granicrete's success training.

Such appearances are testimony to the quality and success of our training system and engineered products.
We have over 1,200 pictures in our web gallery with over 50,000 countertops surfacing projects and millions of square feet of flooring performed by our customers since 2006.
These pictures affirm the pride and quality of work that your wholesale customers will also be achieving from the Granicrete products they purchase for you for their projects.