• Low Royalty Fees
• Exclusive Territories
• Dry In One Hour Cleaning Process
• Environmentally Safe Products
• Training and Support
Welcome to Heaven's Best Carpet and Upholstery Cleaning. We're a national franchise offering carpet cleaning, upholstery cleaning, tile and hardwood cleaning services.
Our unique Dry In One Hour Process is a low-moisture carpet cleaning process leaves carpets clean, fresh and dry in one hour. With our system, there is no worry about mold spores caused by wet carpets or damage to the glue backing that holds the carpet together. Our process also does not leave sticky chemical residues that cause carpets to get dirty again fast. And, our process and cleaning solutions are pet and child friendly.
Some franchises also offer other services which may include oriental and area rug cleaning, fabric protection, spot and gum removal, spot dying, minor carpet repair and duct cleaning.
We are passionate about providing top quality results along with a high level of professionalism. When customers need a carpet cleaner that is dependable, honest and gets results they love, they call Heaven's Best Carpet Cleaning.

A Better Kind of Franchise
Since 1983 we've helped people like you reach for their dreams. Our low prices make starting a Heaven's Best franchise affordable, and our product quality makes for satisfied customers.
A Family of Values
We believe in good old fashion values like honesty, fairness, and hard work. These core beliefs are more than ideals; they are what we strive for, and our operators love us for it!
The owners of Heaven's Best work hard, and cares about their people. When you're part of a Heaven's Best Franchise you're part of a family.
Consistently Ranked in the top 50 Franchisee Satisfaction Awards
Heaven's Best Since 2006, Heaven's Best has consistently won the prestigious Franchise Business Review "Franchisee Satisfaction Award" and has ranked in Entrepreneur Magazine's top 100 franchises for 7 years.

Heaven's Best Franchises Are Affordable
Our royalties are very affordable, and nobody gives you more for your money. You can start a Heaven's Best Franchise for just $34,900. Compare that to other franchises and you'll find it's a bargain!
For that price, you get all the necessary cleaning equipment, cleaners, and supplies to start your franchise. Not to mention branding material, access to advertising resources, continuing training and support, and much more!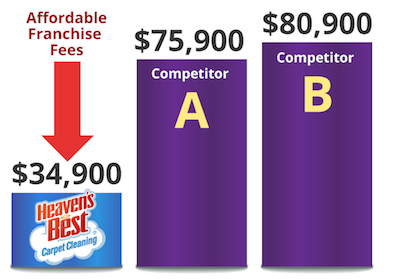 Low Fixed Royalty Fees
Unlike some franchises that charge a significant part of your gross income, our royalty fees are fixed and very low. Just $200 per month, per licensed territory.
Exclusive Areas
When you become a Heaven's Best operator, you don't compete with other Heaven's Best franchises because you're granted exclusive rights to a geographic area. That makes for a spirit of cooperation within the company, rather than competition.
What You Get
When you purchase a franchise with Heaven's Best you join a legacy of quality, service, and trust. That unique message is clearly communicated across all customer contact points, including vehicles, uniforms, products, and advertisements. Our marketing tools have been researched and designed to promote your business and enhance customer perception. You are part of a winning team with a united image and purpose.
Take the First Step With Heaven's Best
We know you're driven to be successful, work hard, and you don't want anyone to put a limit on your income. Becoming a business owner has many benefits: a flexible schedule, more time spent with family, being able to give yourself a raise, and saying goodbye to your boss. It all starts by taking the first step.
Take the first step on your path to freedom-request more information today!