Signarama Printing, Banner and Sign Franchise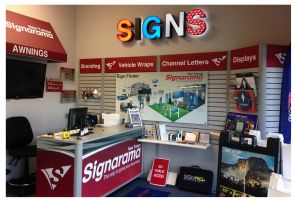 The sign industry is estimated to be a $55 billion global market*, and Signarama is the sign industry leader with more than 30 years of experience! Our phenomenal growth in the last three decades has led to widespread recognition as the #1 sign franchise in highly reputable publications such as Entrepreneur Magazine.
Signarama is more than just a franchise print shop; we're our clients' marketing partner of choice. Our customers count on us for a variety of materials such as banners, tradeshow props, storefront signs, digital displays, vehicle graphics, color wrap film and more.
With new technologies like digital printing and digital dynamic signage, Signarama continues to stay on the cutting edge of the industry, paving the way for steady growth and higher profit margins.
Why SIGNARAMA?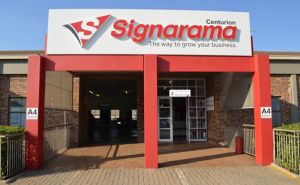 If you're wondering whether or not a Signarama franchise is right for you, there are only two words to keep in mind: it is. Franchising with Signarama is the first step toward a bright and successful future.
Signarama is the largest sign franchise in the world, standing as the leading innovator in the industry. Signarama was also named the #1 sign franchise by Entrepreneur Magazine in 2014. Signarama is the best in the business and will start you off with all of the tools that you need to succeed.
Signarama Fast Facts:
• Signarama has 25 years of growth in sign franchising
• It's the most established brand in the industry
• It was ranked #71 in the Entrepreneur Franchise 500
• There's no sign experience required for franchisees
• The company has a proven track record of success, with nearly 900 stores globally
• With a B2B foundation, Signarama has a strong customer base in any economic condition
• Signarama has 24/7 online ordering available, so customers always have reliable access
A Proven Business Mode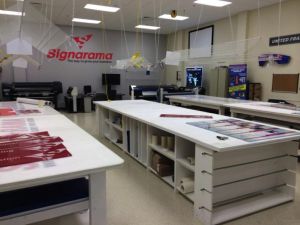 Although signs can be found everywhere, we operate on a new concept that's unique to our stores. We combine signs with a full portfolio of branding options that bring a customized advertising solution to your clients' businesses. A Signarama franchise is a solid business model that works to give back to businesses in the local community.
When you choose to franchise with Signarama, you invest in yourself by choosing a trusted brand with a proven business model. All of the guesswork is removed as we supply you with our tried-and-true systems, manuals and training guides.
We also help you through every step of the process, including financing, site selection, training and staffing. Once you open your doors, we'll help you advertise and increase visibility by setting up a location website and location-specific social media.
No Sign Experience Required
Many of our successful franchisees had no experience with graphics, signs or even running a business when they started. We provide a comprehensive five-week training program that will cover everything that you need to know to open your doors.
When your location opens, you'll have access to our state-of-the-art technology and equipment, as well as our research and knowledge of the industry. We'll also help you get the best deals by tapping into our alliances with vendors and suppliers and by receiving discounts on mass purchases.
Huge Potential for Repeat Business
Beautiful signs help increase brand awareness for the stores and businesses in your local area, helping them to increase their sales and grow. The success of those businesses fuels your success, as about 70 percent of our business comes from repeat customers. This chain of positivity means that by supporting and bettering your community, you can help your own franchise location thrive.
Continuous Support
Our support doesn't end when your doors open; we also provide continuous training and support to help you succeed, and to ensure that you're up to date on the latest developments in the industry. Our mentoring program sets you up with a successful franchisee that can guide you as you begin your career with us.
Our support is unmatched; we have regional offices throughout the United States, Australia and the world to make sure that franchisees can always find local assistance in the area.
If a Signarama franchise sounds like a fit for you, contact us today. We'll have you on the path to success in no time!