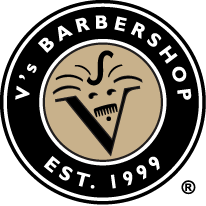 THE BARBERSHOP IS BACK®
V's is not a barber salon or a beauty shop for men - it's a traditional, upscale, authentic barbershop.

V's Barbershop has developed a systematic approach to evaluating the degree of match between a person, their personal goals, their business objectives, and the offerings of our franchise. Potential franchisees appreciate our 11 step approach to assessing this match. If you are looking for a uncomplicated business with the following attributes, then please contact us:
- Tremendous Success Rate
- Best of the Barbershops: The Average Unit Volumes (AUV's) at V's have increased from $360,576 in 2012 to $470,996 in 2018, placing us among the highest in the industry. Compare our Item 19 to theirs to see the difference. We are growing, below is a chart that expounds on this.
2012: $360,576
2014: $376,851
2016: $407,419
2018: $470,996
- Customers will return: Every two to four weeks on average
- Territory: Up to 5 mile radius throughout the term of your franchise agreement
- Reduced royalties: 5% rates drops to 3.5% for annual sales over $500,000
- Keep your current job: In many circumstances, franchisees can be semi-absentee owners
- Dedicated Support: V's places franchisee support at the fore front of our mission.
- Simply put, we are there with you every step of the way
- Close Relationship: V's does not view you as a number-you are part of the V's family and treated as such
- Business model is effective in any economic climate
- Our franchise agreement terms are very different from our competitors.
- Our initial term is 10 years with unlimited 5 year renewal periods. Compare ours to theirs!
At V's Barbershop, we bring you a unique franchise opportunity where the nostalgia of yesteryear is met with a modern twist. Imagine an authentic barbershop with real barber chairs and professional barbers. Where men and boys can enjoy an old-fashioned hot lather, a relaxing neck massage, a straight edge razor shave or maybe just a good old-fashioned, quality haircut. Since 1999, V's has been setting a new standard for barbershops and growing our franchise family... one location at a time.
NOT JUST A NUMBER ON A MAP
V's is a boutique franchise opportunity in which you will be treated as we would want to be treated. V's has no designs to conquer the world of men's barbershops but rather we have aspirations that each location be part of a larger V's family. That attention, care and passion for your V's Barbershop is paramount to V's corporate philosophy.
Why Own a V's Barbershop Franchise?
When Jim "V" Valenzuela opened the first V's Barbershop & Shoeshine in 1999, he simply wanted an old fashioned barbershop to take his son for a haircut and to enjoy the barbershop tradition as he had with his father… Word-of-mouth spread quickly among Phoenix's affluent. Jim had hit on something that was not only unique and desirable, but also a replicable formula for success. Since opening the first V's Barbershop, many people have inquired about franchising the concept. Knowing that most of America lacked a well done authentic barbershop, Jim Valenzuela developed the V's concept into one that could be opened in markets where men desire a first class grooming experience of their own. V's Barbershop now offers a franchise opportunity to select individuals who have the passion and commitment to spread the V's brand of authenticity, quality and excellence that will allow for sustainable and profitable growth.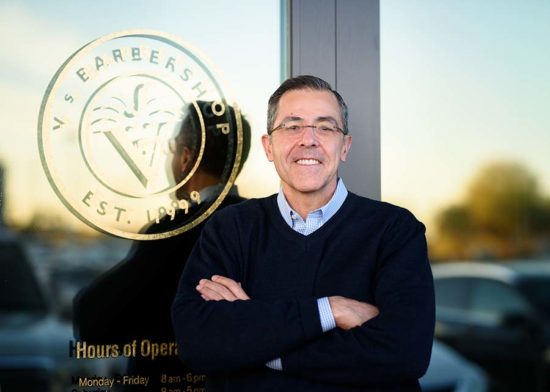 A Franchise System is Only as Strong as Its Franchisees.
A well run franchise reflects well on the entire system and a poorly run franchise affects the sales and reputation at not only that shop, but at all the shops. V's Barbershop is looking for dedicated franchise owners who value the reputation that we've built for the high quality barbershop services available at all of our clean, handsome local barber shops. This does not mean that you have to be wealthy or have previous experience in running your own business. It means that you're interested in starting a barber shop with a personal dedication to operating your local V's Barbershop franchise as well or better than any other within the V's family. It also means that you are willing to invest your own money, or invest together with a partner, to own one of America's Best Barbershops®.
Do You Have What It Takes?
Fill-out the form now and let us contact you directly.